Tom Wishon Irons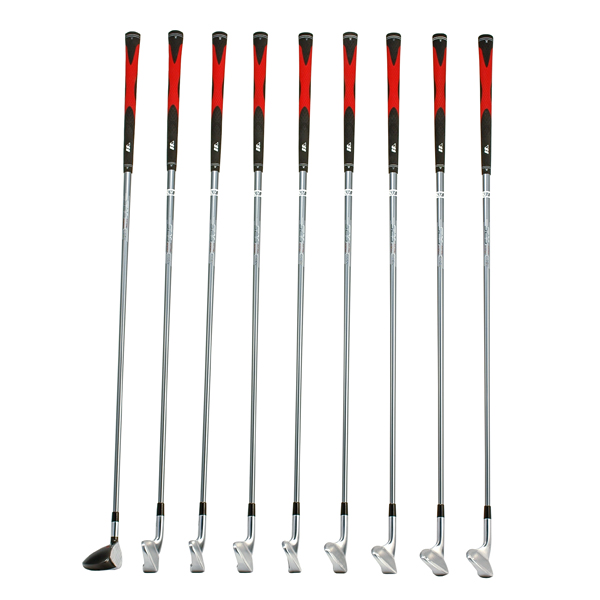 Sterling™ Irons Single Length Set
A Unique Set Design to be Built to One Length for all Clubs to Deliver a Perfect Match of all Elements of Swing Feel for shot consistency
Features:
• Single length construction ensures all possible elements of swing feel are identical for each club in the set – same MOI, same total weight, same headweight, same balance point – to offer the chance for improved shot consistency.
• Identical length and lie allow the golfer to use the same stance, same posture, same swing plane forimproved shot consistency.
• Optional high COR #5 hybrid with high COR #5, 6, and 7 irons off er proper distance for the low loft clubs at the shorter single length. Other single length sets may lose distance with the low loft clubs.
• Conventional cast carbon steel in the #8 to gap wedge with 5* loft increments blend with the high COR design of the low loft clubheads to offer proper distance gaps and proper distance with the high loft clubs. Other single length sets may generate too much distance with the high loft clubs.
• Available in a #5 hybrid or #5 iron to match the player's desire and ability, with #6 to 9, PW and Gap Wedge and Sand Wedge.
• Sterling™ Single Length can be built to 36.5", 36.75 or 37" length for each club as fit by the Clubmaker for the golfer's comfort and preference.
Contrasts with most other single length sets being created for a 37.5" length – which can generate too much distance with the high loft irons.
• Intended to be custom fit with any Wishon Golf S2S iron shaft model and flex to meet the swing speed, transition/tempo and release point of the golfer.
• Sterling™ hybrid uses standard iron shaft (.370)
---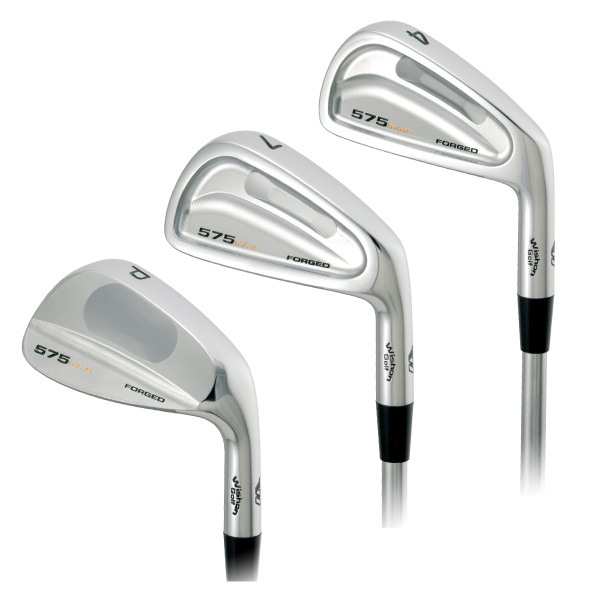 575 MMC Forged Irons
A Combined Progressive Cavity and Muscleback Forged Design with each Back Design Fully Made by Precision CNC Machining
Features:
• TWGT Designed the First Forged Iron Created by CNC Machining – the new 575MMC machined muscle cavity irons take the precision of a CNC Machined forged iron to a higher level.
• Mixed Muscleback and Cavity Back Forged Design created for better players who prefer a more compact profile
• Cavity Back in the Long and Mid Irons for moderate off-center hie forgiveness with blade muscleback design in the short irons. Progressive Weight Design extends throughout the full set – the CNC Machined cavity on the #3 to 7 irons gradually moves weight from a low to mid cavit y level. The CNC Machined muscleback progresses the back weight from mid to higher.
• The 575MMC #8-Wedges are First CNC Machined Muscleback Irons ever created in the industry for precision in CG and weight distribution.
• All New CNC Machining Pattern Technology results in a beautiful milled surface texture. 575MMC available in RH in cavity back #3 – #7 with muscleback #8 – Wedges.
---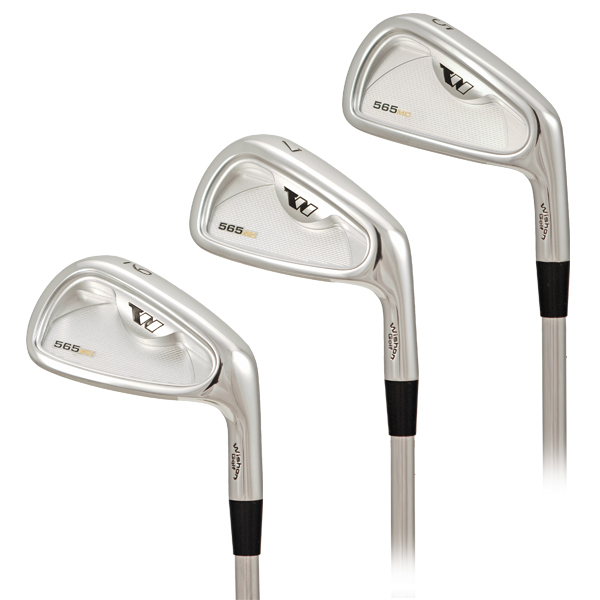 565MC Forged Irons
All New Forged Carbon Steel + CNC Machined Deep Back Cavity for the Highest MOI in a True Forged Iron Design.
Features:
• Wishon Golf's 2nd Generation 560 Series Forged Iron adds a more Solid On-Center Feel to the Best Off-Center Forgiveness in a Forged Carbon Steel Iron.
• New Center Cavity Half-Moon Weighting Increases On-Center Impact Feel While Offering a Very Slight Increase in Shot Trajectory.
• Low-Off set Design Also Features a Slightly Thinner Top Line than the Original 560MC.
• Completely CNC Machined Back Cavity Ensures Precise CG Position for Each Head Number with a Beautiful Cosmetic Appearance.
• Fully Radiused Tour Grind Type Sole Design – This is a Model for Scratch to Middle Handicap Players.
• Double Nickel Chrome Pearl Plated Finish with Glass Bead Blast Highlights – CNC Machined Scorelines Within 2010 USGA Rule Guidelines.
---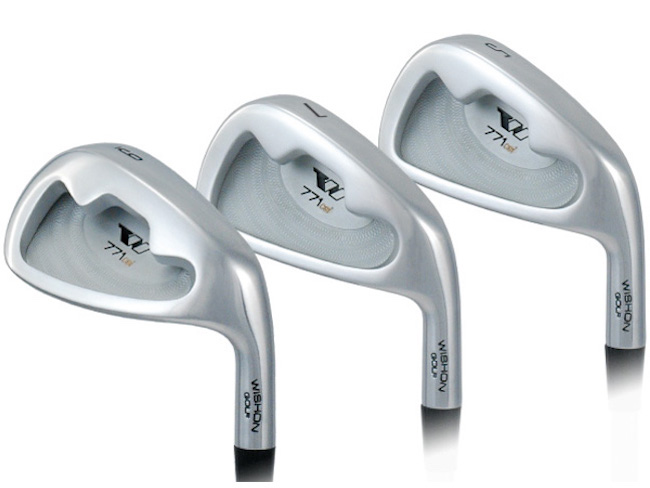 771CSI Carbon Steel Irons
All New Thin Face, High COR, Variable Thickness Face in a Carbon Steel Body to Offer a HotList-Icon2014Wide Range in Lie and Loft Bending for Custom Fitting
Features:
• High 0.830 COR face design offers the most distance for all golfers.
• Machined Variable Thickness Face delivers superb off-center hit forgiveness.
• Head body material is 1020C carbon steel to allow clubmakers to perform a wide range in loft and lie bending – previously all high COR thin face designs had to be mounted in a 17-4 stainless body, which limited loft and lie fitting options.
• Conventional Head Size and Shape means a wider range of golfers will like the 771CSI design.
• Fully Radiused Sole Design with Rounded Leading Edge offers golfers the best playability from all types of grass as well as from the rough.
• Available in RH & LH in #4, 5, 6, 7, 8, 9, PW, (AW RH only) in bright satin NiCr electroplated finish
---
by Sherm:
Game Changer!!
As a clubfitter and clubmaker, I began using the 771CSI shortly after its release. The first few customers absolutely loved them, so I began to include it every time a client and I went to the driving range for a fitting, even for a very wide variety of golfers with varying abilities and handicaps. What I began to notice was when a person would hit their own 7 iron, the good shots went OK and the fat or slightly fat shots created a pretty sizeable divot. When I put the 771 in their hands the divots went away or was greatly minimized, the ball flew off the face faster and the ball went pleasantly higher and longer. These results continue to repeat time after time, after dozens of fittings on the range. We now have the 771CSI in five different 7 iron test clubs, each with a different shaft/setup to allow golfers of all skill levels an opportunity to feel and see what one close to what they may need, hits like.
There really is no other club close to it anywhere in the entire golf market. With its carbon steel body I can adjust the loft and/or lie angle up to +/- 4 degrees! And the variable thickness hot face really delivers on distance. No other club company combines a bendable carbon steel body with a special alloy hot face in one iron. I have been a clubmaker now for 24 years and have done thousands of fittings all at a driving range, and I believe this iron to be the easiest, most fun, most forgiving, highest and farthest flying iron I've ever known. I've started calling it a Game Changer, because it is.
Micro-Groove™ scorelines are more narrow and closer together than traditional scorelines – the Micro-Groove design allows the edges of 5 lines to contact the ball at impact while traditional lines only allow 3. This is one more key to the enhanced spin design of the PCF Micro Tour wedges. The Golf Digest 2014 Hot List Winner, Tom Wishon 771CSI.