Miura Irons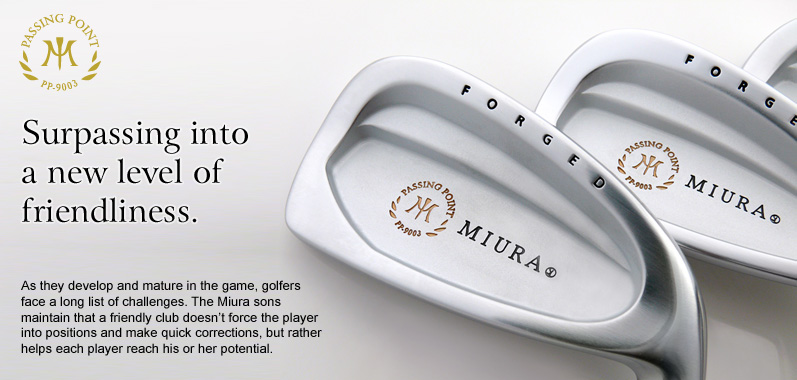 PP-9003
Passing Point 9003 specifications (Right Hand Only)
Material : Low-carbon, premium steel
Process: Forging in MIURA's own forge in Himeji, Japan
Finish: W nickel (satin) chrome or Black Boron finish(*)
This version of the PP-9003 is also available in a handsome Black Boron finish for a dark, attractive look that wears into a silvery patina with repeated play. The low-glare finish pleases the eye and draws stares of admiration from other golfers.
*The Black Boron finish will also be available on the CB-501 irons. These special clubs will be made only in very limited quantities at certain times throughout the year; see your Miura dealer today to reserve your set.
Features:
• Timeless MIURA styling. Peerless MIURA performance.
• High-density impact area for maximum feel and power.
• Leading edge specialpayccly engineered help the player make solid contact.
• Forged cavity-back construction offers solid feel with perimeter-weighted forgiveness.
• Sole designed to glide confidently through the turf.
• Easy-to-aim shape helps players square the face at impact.
• MIURA's welcome to all golfers.
• If you think the visual impact is strong, wait until you hit it.
Passing Point philosophy
There is a passing point…when you pass from acquaintance to friend, from novice to serious student — from casual golfer to committed competitor.
Your golf clubs can have a passing point, too — a new level, where they become more than just 14 tools in a bag. They become friends in their own right.
"What does the term 'friendly' mean in a golf club?" This is the question Shinei and Yoshitaka Miura — sons of company founder Katsuhiro Miura — asked themselves as they designed the new forged Passing Point 9003 iron. The answer to their question is a club of surpassing utility, ease of play, and yes — friendliness.
As they develop and mature in the game, golfers face a long list of challenges. The Miura sons maintain that a friendly club doesn't force the player into positions and make quick corrections, but rather helps each player reach his or her potential.
In the MIURA tradition of melding functional golf design with an artistic eye, Shinei and Yoshitaka crafted a wider sole to help with effective turf interaction. Yet the sole takes an elegant shape that doesn't look oversized. Likewise, the offset is designed to flow naturally into the club head to preserve a confident look at address, but still benefit players who need some help squaring the club face at impact.
The throughly researched and tested PP-9003 design places the center of gravity low for a high, soft-landing flight that still holds its line and never balloons.
And as with all MIURA clubs, the weight and balance are obsessively consistent throughout the set.
"The Passing Point brand pursues usability and performance as the core fundamental tools," Shinei says. "We believe the strong usability and performance can make it easier to plan each shot and help each golfer use his skills to the fullest," Yoshitaka adds.
Positioned as a stepping stone to the MIURA clubs intended for better players, Passing Point is MIURA's way of reaching out to all golfers. Anyone who plays the game deserves a great forged club — and Passing Point is the newest place to begin that eternal journey towards golf excellence."
---

CB-501
CB-501 specifications (Right Hand Only)
Material : Mild steel
Process: Precision forging in Miura's own forge in Himeji, Japan
Finish: W nickel (satin) chrome
Set Contents: No.3 – PW (8 Irons)
Features:
• When the CB-501 was in development, our goal was to combine the best features from our favorite Miura irons, both past and present. Mr. Miura was striving for the ideal ball flight; enough offset to promote playability, the perfect head size, and a sole grind that would accommodate a broad range of players.
• With a sole grind that appeals to the Tour player, the 501 also possesses a design that will appeal to all levels of golfers.
• The "sweet spot" muscle back will deliver a ball flight with the trajectory of a blade.
• This style of iron also offers cavity-back forgiveness, as the contact point moves away from the center of the face.
• We spent two years integrating these design variables in different ways until we found the blend that worked best for the widest range of golfers.
---

MB-001
MB001 specifications (Right Hand Only)
Material : Low-carbon, premium Japanese steel
Process: Precision forging in Miura's own forge in Himeji, Japan
Finish: W nickel (satin) chrome
The Story
Time and Experience Lead to Refinement — and Better Golf
The MB001 design is the result of years of study and careful consideration of iron performance by the Miura family. Yoshitaka Miura, elder son of founder Katsuhiro Miura and a club-grinding expert who learned under his father, led the project. He had the advice of his brother Shinei, who supervises forging operations at the company's factory and forge in Himeji, Japan, and of course his father.
Turf travel. The sole shape and size, subtly adjusted from successful designs of earlier models, gets through the turf more efficiently and gives the player a better chance of keeping the club face square at impact. In a properly fitted MB001, this sole delivers a consistently sized, crisp divot that is evidence of a solid, efficient strike.
Top line. It's narrow, but still shows the strength and substance of the face. At address, the top line presents a simple, clean look that reduces distraction and promotes confidence.
Transition area and compact look. The flow of steel from the hosel to the low-offset head is smooth, elegant, and non-reflective. Yoshitaka-san took a lot of time to get this right; he also focused carefully on the relationship of the toe and heel so that they look harmonious as a whole. The MB001 head is almost the same length heel-to-toe as our Tournament Blade, and like that club, offers plenty of "face space" without looking overly long.
Upright appearance. While the MB001, like all Miura irons, can be adjusted for lie angle by authorized Miura dealer/fitters, the entire aspect of this club at address gives a more upright aspect to the golfer. Without feeling cramped, the player feels closer to the ball, able to see all of it without adjusting away from a comfortable head position. This better view of the ball adds to pre-stroke confidence.
Graphics. As with all Miura irons, the back of the club head is uncrowded, simple, and designed for striking beauty. Less is a great deal more.
---

Tournament Blade
Tournament Blade specifications (Right Hand Only)
Material : Low-carbon, premium steel
Process: Precision forging in Miura's own forge in Himeji, Japan
Finish: W nickel (satin) chrome
The Story
Call it the quiet muscle. But you'll feel its strength on the golf course. Mr. Miura's subtle shaping of the muscleback design delivers a solid punch at impact because the weight is where it should be in the clubhead. Combine that with a classic, confidence-inspiring look, and you've got a peerless iron head.
Notice the blend from hosel to clubhead, sometimes called the "par area." Mr. Miura conceptualizes this as a triangle, then eases the edges and shadows to provide a look that only pleases and never distracts. The face is air-sandblasted (not the usual water method) for just enough friction, not too much. The result is good spin assistance and no glare.
"When I designed the Tournament Blade, my chief goal was to make the lofts, lies and offsets absolutely consistent," Mr. Miura says. "The hosel is a little longer, for stability, and it is true that that feature moves the sweet spot very slightly toward the heel. But while some may be afraid that this club is hard to hit, it is more a matter of forming an alliance with the club. Those who learn to use the Tournament Blade will find it very rewarding."
This design, one of Miura's hallmark clubs, hasn't changed since 2007. The reason: there has been no need. Mr. Miura made sure he got it right the first time, and released the Tournament Blade only when it was fully ready. That's the kind of design confidence and care knowledgeable golfers have come to expect from MIURA. Mr. Miura creates innovations based on golfers' needs instead of on the calendar. Enduring designs that work are what he seeks every day.
---

Left Hand Blade
LH-Blade: blade model specifications (Left Hand Only)
Material : Mild steel
Process: Precision forging in Miura's own forge in Himeji, Japan
Finish: W nickel (satin) chrome
Set Contents: No.3 – 9, PW (8 Irons)
Neck type: Straight Neck
Grip type: Velvet Full Cord
Features:
• Miura's forging techniques rearrange the molecular structure of the mild steel in a pattern that is uniform throughout the club head. This eliminates void spots in the club face. This process assures that every Miura club in your bag has the distance control, ball flight, spin, and feel that any golfer should demand.
• This tightness in the grain structure of the metal is what gives Miura made clubs the controlled, soft feel that other manufacturers cannot achieve. Miura also uses a proprietary "spin welding" process to produce the industry's most consistent hosel. This unique procedure ensures that the bore depths and hosel heights are identical on every Miura made head and the shaft of every club will be perfectly centered.