Tom Wishon Fairway Woods
919F/D Fairway Driver
A Superb Fitting Option for More Control on Tight Holes
Features:
• The 919THI Drivers are now designed with a unique, pure titanium bendable hosel to allow you to fit ANY golfer for lie and face angle.
• The 919THI Drivers are manufactured using all new, plasma welding tooling dies for 2014 to ensure the highest level of head to head consistency and durability.
• The combination of variable thickness face with >5,000 g/cm2 MOI delivers the best off-center hit performance in the game – just hit the 919THI Driver and you won't believe the performance.
• GRT reduced roll radius ensures a more consistent launch angle and spin rate for all shots, whether high, center or lower face hit.
• Available in RH in black metallic finish in 9*, 11*, 13*, 15.5*, 10.5* Draw Bias Plus and new 11* Offset. LH in black in 11*, 13.5*. Matte white non-glare finish versions available in RH only in 9*, 11*, 13* lofts
---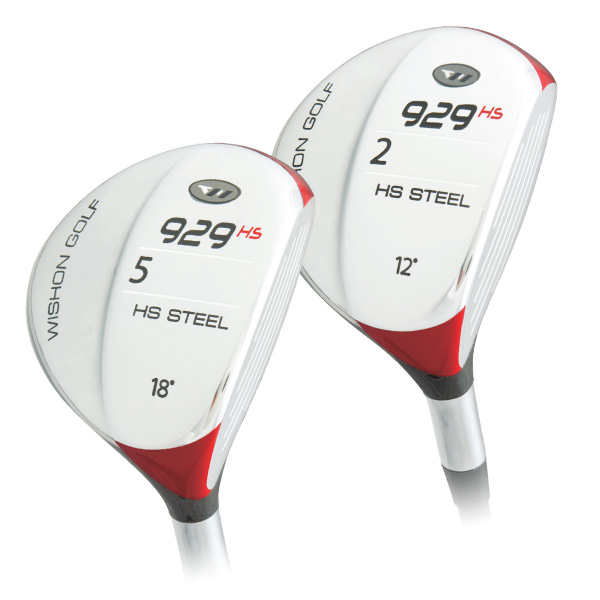 929HS Fairway Woods
Shallow Face, High COR Face Design for Distance with Ease of Playability
New Soft Stainless Hosel Allows Custom Lie and Face Angle Fitting
Features:
• 304 Stainless Steel Hosel is separately welded to the body to enable ease in bending for a wide range of custom lie and face angle bending (+/-4*).
• 31mm Shallow Face Height is ideal for golfers who play off firm, short grass fairways orfor golfers who need more confidence getting the ball well up to fly.
• HS 350 High Strength Steel Thin Face allows for a high COR for increased ball speed and superb off center hit performance.
• Reduced Face-to-Back Sole Width reduces the sole to ground contact for more consistent contact with the ball, even from the rough.
• Available in RH in #2 (12°), #3 (14°), #4 (16.5°), #5 (18°), and #7 (21.5°). The 929HS are in development in LH for 2012.
---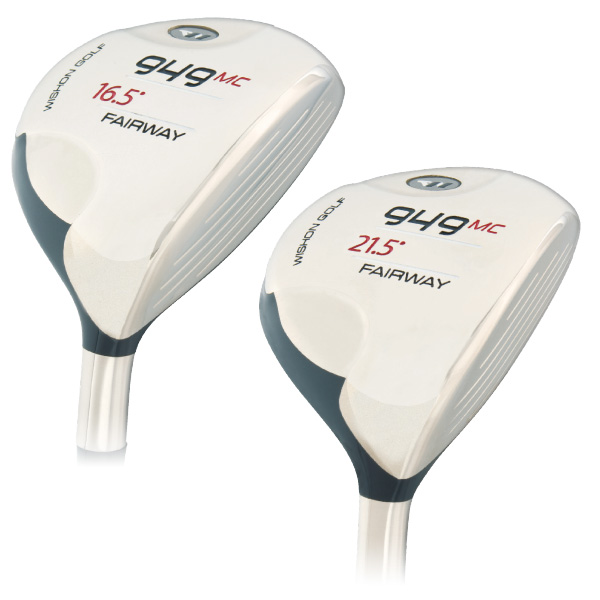 949MC Fairway woods
The High COR 949MC Fairway Woods are Even Better with their Re-Design in 2011
Features:
• New CNC Precision Engraved Scorelines replaces the former laser etched lines to channel moisture away from the face at impact from wet grass and rough for more penetrating ball flight.
• 2nd Weight Bore on the Sole to allow clubmakers to use a wider range of lengths and shaft weights to achieve more swingweight (MOI) fitting options for golfers.
• Forged, High Strength Steel Cup Face for high COR delivers the highest possible 1.49 smash factor – never thought possible from a fairway wood.
• Semi-Shallow 32mm Face Height combines with the high COR face design to offer a superb high performance design with the confidence to easily hit the ball high and far.
• Tapered Crown Wall Thickness Design gradually increases the wall thickness at the rear of the head to create a more rear CG position for slightly higher launch angle.
• Available in RH in lofts of 14 (#3), 16.5 (#4), 18 (#5) and 21.5 (#7).